What is the Best Aluminium Ute Canopy?
Australians are mad for utes, and mad for travel.
Although having the absolute best aluminium ute canopy is by no means a requirement to enjoy your 4×4 adventures, more and more people are looking for aluminium ute canopies.
The problem comes when trying to decide what is the best aluminium ute canopy available on the market.
There are a growing number of manufacturers who make great alloy ute canopies for the outback adventurer or family tourer, so figuring out all the nitty gritty details is a major chore.
In this post I aim to dive a little deeper to help you decide what is the best aluminium ute canopy for your specific needs. Everyone being different of course.
I will give my opinion on what I consider to be my favourite aluminium ute canopy, and will explain why I see it the way I do. My reasons may differ from yours, so at the end of the day, you put your money with the company that best aligns with your idea of the best aluminium ute canopy.
Oddly enough for my 4WD touring build this was one of the very first things I dedicated my time to researching. For a lot of people this comes way down the track.
For me the ute canopy is the canvas on which the whole build takes place, due to the long wait times it was one of the first things I needed to get for my ute.
Other comparison posts
If you like comparisons, check out the following comparison posts:
If you're unsure about all this 12 volt stuff, check out this comprehensive guide on how to plan a 12 volt setup (warning, it's detailed).
Otherwise, enjoy the rest of this post 🙂
What do you mean by "Aluminium Ute Canopy"?
When people buy utes they come in one of two designs;
To generalise for the sake of keeping this short, the vast majority of people will buy the ute tub variety, with most work vehicles coming as a cab chassis.
When people buy ute tubs, the logical step for them when wanting to protect the tub's cargo from the elements is to add a canopy that mounts to the tub. Such as these made by ARB.
These are normally made from fibreglass and are reinforced if the customer wants to carry a load on the roof, like a roof top tent.
However there are also aluminium varieties that sit on top of the ute tub, but these are not what I am referring to.
For those with cab chassis vehicles, it is common to get an aluminium canopy that bolts to an existing tray, such as those from MRT. These are also not what I am talking about.
What I am referring to is the more premium canopy designs that are seen in the cover image of this article, these manufacturers will often sell versions of their canopies that can be lifted off, and others that bolt directly to the chassis and are a permanent fixture.
These canopies work exclusively with their own manufacturer's tray, or canopy base, using specialised mounting brackets designed specifically for each different vehicle make and model.
These canopies are made here in Australia and are purpose built for harsh environments. They come with accessories for touring, and a very steep price tag to boot, so let's break it down a bit further.
The Contenders
To keep this post relatively short, I have limited myself to 6 contenders, this is no discredit to other aluminium ute canopy builders, but the 6 I have chosen are some of the better known manufacturers getting around.
Here is a brief introduction to the canopy manufacturers, with a more detailed look into the pros and cons of both further down.
Norweld
Norweld are based in northeast Queensland,  they have built a name for themselves over 50 years. Norweld are often one of the first thought of canopies by people looking into the subject thanks to their great reputation for build quality and impressive network of suppliers.
MITS Alloy
MITS Alloy is a relative newcomer to the business, starting in 2012 but quickly gaining a lot of popularity by reimagining what a canopy should be with a nice modular system, based in Newcastle, NSW. Popularised by the youtube channel 4WD 24-7.
TLX 4X4
TLX 4×4 is an off-shoot of another company called TL Engineering here in Perth (where I live). They have experience building bodies for the mines and now have a purpose built company specialising in aluminium ute canopies.
Concept Canopies
Concept Canopies are based just near Brisbane and specialise in custom built, and super light weight canopy designs.
Boss Aluminium
Boss Aluminium are a company from Victoria who have been in business for over 20 years. They have also gone for the approach of having a modular system in their canopies which looks amazing!
GCI Traytec
GCI Traytec is also an off-shoot of another company, this time GCI Group. GCI Traytec is a newcomer to the scene but has a very impressive record of innovation, with new ideas and different designs to the other manufacturers.
So Which Manufacturer Makes The Best Aluminium Ute Canopy?
This is where it gets difficult, sifting through all of the information out there gives you an overload that is hard to process. Not to mention the amount of digging required to find it all in the first place.
I can't say which is the best aluminium ute canopy, but I can help you decide which is best for you by cutting through a lot of the marketing and creating a more centralised hub of information.
My Research – How I Chose What To Compare
In order to do my comparison, I needed a control ute canopy to properly compare all of the options as equally as possible. To better see what is the best aluminium ute canopy, they all need to have an equal amount of features to start with.
My hand was forced here thanks to Norweld. Unlike the other manufacturers on this list, Norweld do not offer customisation after the original sale of their canopy.
What I mean by this is that you buy the canopy in a package, with everything in place as per the selected package, the individual components of the packages can't be selected by the purchaser outside of choosing extra jerry can holders or tyre mounts.
Because of this, my "control" scenario for an aluminium ute canopy consisted of the following requirements;
To suit a space cab/extra cab (my vehicle).
2 door canopy.
1x rear wall tyre mount.
1x rear wall jerry can holder.
Roof rack.
Under tray toolboxes behind both wheels.
Trundle drawer.
Water tank.
Rear ladder.
Shipping and fitting in Perth (where I live).
With the above things included, this perfectly matches the inclusions of the Norweld canopy base as well as a basic canopy package. The reason I went with this from Norweld instead of some of the more feature packed packages was because it is nice and simple.
Although this was as close as I could get to a fair comparison, it must be noted that differences still exist between the companies even when offering the same components, which I will highlight as best I can throughout the post.
The Quotes – A Comparison Table
So here is the comparison of all the quotes I have received. The quoted amount in bold font is for the most basic canopy with the following features;
Roof rack.
Jerry can holder.
Spare tyre mount.
Trundle drawer.
Under tray toolbox pair.
Under-tray water tank.
Shipping to Perth.
Suits an extra cab/space cab (with a canopy shorter than the tray to create a ledge wherever possible).
Below that you will see the prices of a more feature rich canopy that involves some sort of paint work, a table/drawer combo where available, central locking and a shelf etc.
The weights of the canopies in bold are as provided in the quote, with an additional weight added below that for a canopy with some extra accessories. It should be pretty self explanatory.
Things to Consider
Some musings about the results in the tables
Weights
Looking at the table you can see a vast difference in the weights of the canopies. I can only take the manufacturers word for their weights. Concept canopies appear to have a different approach to the others, in which no "tray" is made for the canopy, but rather the entire thing is just a canopy shell that mounts to the chassis.
I like this approach, as it saves a lot of weight, the tray is unnecessary weight if it can never be used as a tray.
Every canopy here is a full time chassis mounted canopy, except the ones from MITS Alloy and GCI Traytec* which offer lift off points (legs not included in the price or weight of the quote).
Other manufacturers claim to save weight by employing a full time setup, but MITS has managed to equal or beat other canopies in weight despite still giving you the option to wind off the canopy.
*This isn't to say that the other manufacturers don't make wind-off canopies. All of them offer a wind-off variety, however full-time chassis mount canopies were used for the purpose of the quotes, except MITS and GCI whose canopies only come in the one configuration.
Prices
Although it looks like TLX 4×4 has pretty competitive pricing, every other canopy has a shipping price included in the price.
Concept Canopies and Boss Aluminium don't have an exact price, so I applied a price of $3,000 which amounts to an estimate of $2,000 for shipping and $1,000 fitment somewhere in Perth. I did ask and they do ship to Perth, with estimates being $1,500-$2,000 so I opted for the higher amount.
With that in mind, the prices from TLX start to look pretty poor in comparison, another rip off for Perth people, just because they can.
Inclusions
TLX do include the painting of the doors in their price. All the others come with a raw aluminium finish, with the exception of GCI who have powder coating in their prices, except they seem unable to send me a quote.
MITS Alloy and GCI both have lift off points in their canopies. The others do offer lift-off canopies but they must be specified in the order because it is a different design altogether.
Norweld are the only company that don't offer a shorter length canopy for extra cabs, the canopy will take up the entire length of the tray and all rear accessories will hang over the back.
Canopy Components Comparison Table
In this table I have broken down some of the individual components that can be optioned in to any canopy build. Below the prices you will see the plus/minus % deviation from the average cost.
Why You Shouldn't Read Too Much Into This Table
Take what you see above with a grain of salt.
There are lots of things to consider or question when looking at the table. For example, you may see that MITS have a more expensive jerry can holder, but when you look at the designs you can see that they actually use more material in their designs.
Also evident is the fact that Concept Canopies have the cheapest roof rack, but the reason for this is because the option chosen in the quote is just 4 bars of uni strut, it's a very simple design.
The other thing you may see is that Boss Aluminium has very expensive prices for their components, yet their overall quote is one of the best. It just goes to show that you can save a lot by buying in packages.
Things I Can't Explain!
How can MITS charge so much for central locking?
Why is the 30 litre water tank from MITS such poor value?
How can Boss Aluminium charge $1,750 for a table/drawer combo that's very similar to those on offer from others?
Why is Norweld so heavy in comparison to the others?
Why is TLX more expensive than all of the others once you remove shipping from the price of the other quotes?
The list does raise some questions, which is exactly what you need to help choose the best aluminium ute canopy. They all offer very similar features, with similar spec materials on offer, so some of the price differences are confusing.
Best Aluminium Ute Canopies – Reviewing the Manufacturers
In this section I will look further into the companies, listing the pros and cons of each as I go and quickly touching on what sets them apart from the others. I'll look at things such as website quality, customer service, and how easy it is to find information online.
My experiences might be different to yours, feel free to comment on anything you think is incorrect.
Norweld
Website Quality – 7/10
The Norweld website is neither the best nor is it the worst. It has been in need of an update for a while now and recently (May 2021) looks to have gone through a mini refresh.
Now you will get a filterer choice of what will fit on your car according to your desired arrangement (full-time, permanent, or tray only).
What the website is lacking is a comprehensive gallery, the gallery is very small and it can be hard to get a good idea of what is involved in the build.
There is a pretty comprehensive FAQ section that answers a lot of common questions.
At the time of writing though the Norweld Brochure and Price List seem to have been removed from the website, the links in my quote email no longer work when taking me to those pages. However there are a lot of prices already clearly visible on the website which is awesome.
Customer Service – 10/10
Norweld customer service was brilliant!
After asking for a quote, there was a quick phone call with someone who was able to answer all of my questions off the bat. Their response times with emails was way above the others
The quote was well set out with the prices and the weights off the components listed as well. I can't fault them here, possibly the best company to deal with for communication speed.
Customisation Potential – 4/10
Norweld canopies are built in packages. For example, if you want a full-time canopy, then you will purchase the full-time canopy base and then select a canopy to mount to that from this range.
These canopies come with a set of features included, it's up to you to pick the option that works for you. The individual components (besides shelves which bolt in) are welded in place and form a permanent fixture.
You also can't choose your canopy length like you can with the other companies. With other companies you can select a canopy length so long as it is shorter than the tray (with their given range of lengths, not custom lengths).
I personally don't like this approach for owner customisability, but can appreciate that a lot of people just want a canopy that is ready to go. With Norweld's high turn over this is the approach that works best for them.
The interior doesn't lend itself to customisation either as you can see below. Nutserts can be used as needed but this is more intrusive than having an open channel design. The roof does have a channel along its length, and there are 4 tie down points inside the canopy.
Shipping & fitting fees – 10/10
This is where Norweld shines bright.
For $990 they will cover shipping, fitment and removal of tub, as well as relocating reverse cameras and sensors.
That's honestly ridiculous, I don't know what else to say about that.
Ease of finding information – 8/10
Although the website isn't great, thanks to their wide appeal you will find plenty of Youtube videos from prominent customers who give detailed run downs of their canopies.
Summary (Pros and Cons)
Pros
If you know what you want, and you want a tried and tested product then these guys are for you.
Great shipping fees for those in Perth.
You will probably find a package that near enough suits your needs.
Pricing is transparent on their website.
Cons
They don't offer their compact series of canopies for the extra cab design. This means that any tyres, jerry can holders and ladders will add to the total length of the vehicle and will hang over the back.
They weigh a touch more than the other options.
Not great for those who want to customise the interior themselves.
Personal preference – I don't like the roof rack design of the security door styled hexagonal mesh that sits on top of the canopy.
Summary
For me personally who is looking to build out a canopy from scratch and figure out what I do and don't need, Norweld isn't the one for me. They are great for those who know what they want, unfortunately I don't fit into that category.
MITS Alloy
Website Quality – 9/10
The MITS Alloy website is very well laid out, there's lots of space around everything, it's easy to read, and the menus are easy to follow. You can get where you need to go with about 3 clicks.
What I love about this website is that when you click on the page for either trays or canopies and scroll down, you are treated to pictures of each individual component, as well as a little blurb of brief information.
On top of this there is a massive gallery so you can look at all sorts of builds, with nice close up shots that give more detail than the boring shots of the outside off the canopy.
There is also a video section that highlights some of the better videos relating to their product, including their own rig walk downs.
The only reason they lose a point is due to it being difficult to find this pricing sheet on the website (I had to google it, couldn't see it anywhere).
Customer Service – 9/10
I can't fault MITS Alloy here, I'd put them just behind Norweld but they were super responsive to all of my questions, with emails only ever taking a day at the most to be responded to.
The quote provided was super detailed, with all sizing, weights, and any other information you could possibly need to know about each component of the build, from shelves, drawers, roof racks or whatever else you asked about. This allows you to really think about what you do and don't need based on price and weight.
Customisation Potential – 9/10
This is where MITS Alloy shines, with their whole ideology being built around the idea that all of the components can be bolted in and out at any time depending on what the customer wants.
It gets better though, MITS Alloy canopies come standard with an aluminium sheet on the front wall that allows for the custom electrical works to be carried out with a neat and tidy finish.
Then it gets better still, as you will see below the canopy has uni strut channels not only on the roof, the front and back walls, but also through the length of the floor.
Couple this with the lift-off points in each canopy and there are endless possibilities for how you wish to use your ute, either by bolting in MITS Alloy components, or by doing your own work to it as you go.
The only reason they didn't get full points is because they don't do custom builds, but there's so many options I don't blame them either.
Shipping & fitting fees – 3/10
My biggest reason that I haven't already ordered a canopy from MITS Alloy, price.
With GST included the cost of the shipping and fitment to Perth is $3,080.
I get that it can be costly, I just think maybe with a bit more popularity, or produce being shipped, that they might be able to come up with a better price than this, but maybe that's wishful thinking.
Besides the shipping fees, MITS are also 18% more costly than the average for reverse camera relocation and 33% more costly for tub removals … why?
Ease of finding information – 9/10
Another company that has a high popularity rate on Youtube, with the channel 4WD 24-7 featuring the canopy on a D-Max.
Couple that with a good website and the pricing sheet (linked above), it's all the information you will need.
Summary (Pros and Cons)
Pros
My favourite of all the canopy interiors. Great for customisation.
Gives lift off points without weighing more than other canopies.
The best roof rack system of all the canopies in my opinion (pictured below).
You can choose multiple length canopies to suit your needs (eg: Extra cab tray of 2115mm will give you the choice of a canopy with a length of: 1000mm, 1200mm, 1400mm, 1600mm, 1800mm, or 2050mm).
Cons
Pricing in general. Why so much for central locking? Why so much for shelves? Tyre Mounts etc.
The average cost of individual components is 10.5% higher than the competitors in this test (albeit not a large pool to select from).
Summary
My heart says go with MITS, but my head says otherwise.
They have my favourite designs of the canopies, but I feel like they might be partially trading on their fame in regards to their costing. I have no doubt that they can be more competitive.
TLX 4×4
Website Quality – 5/10
TLX 4×4 have some work to do on their website. It isn't horrible, with good explanations of what length canopies are available and all of the prices listed up front.
However, when it comes to accessories, all that is provided is a brief bullet list, with no images of information on the materials used, the dimensions, or the cost.
They get points back for having an accessories page which does list prices, but the page is incomplete and doesn't have a lot of the things listed such as table/drawer combos, shelving units, under tray toolboxes and more.
The gallery is very limited and the same photos are continuously repeated on each product, so you're not necessarily looking at what you are buying.
Customer Service – 8/10
The customer service was good, with decent reply times to emails.
The quote form is a little bit messy and not nearly as informative as those from MITS or Boss Aluminium in regards to what goes into the individual components of the build.
When I visited in person I was seen to quickly and they were happy to talk and show me around as well as discuss all of the options available.
Customisation Potential – 7/10
TLX have a pretty healthy level of customisability available. There are a number of canopy lengths available for an extra cab canopy base of 2100mm. You can mount any of the following size canopies: 1000, 1500, 1800, or 2100mm.
TLX also have channel on both the front and rear walls of the canopy in an "H" formation, as well as channel running north/south on the roof.
The flooring though is a flat and flush finish. It looks very neat, but all accessories are mounted with a nutsert. This means you can remove them, however you won't have unlimited customisation because the nuts will be left behind.
Because of this, you want to know where you want things to be set. You can customise it all yourself, and even go buy components later down the track and have them fitted on your behalf  by TLX. It's just that if you want to move something you'll have holes left in the flooring from previous mounting arrangements.
They also lose points for not including the aluminium flat sheet across the headboard as standard, you can get it but they will charge extra.
Shipping & fitting fees – 8/10
Being Perth based, shipping is not applicable.
However for relocating reversing cameras and removing tubs, TLX are very well priced!
Ease of finding information – 4/10
They get a few points here for being local and being able to walk around the vehicle in person is invaluable.
However, if you were to be buying from interstate you wouldn't have much chance of getting any decent information online.
The Youtube channel has very little to be gained from watching it, with brief "walk throughs" that are all of 1 minute long. It is quite hard to find any good information on the canopies unless you are in Perth and can visit the workshop.
Summary (Pros and Cons)
Pros
Local shop means you can start with an empty shell of a canopy and build it with accessories as you get a better understanding of how you will use the canopy.
Being able to choose your canopy length depending on the length of your tray.
Can opt for a wind-off set up if you prefer.
History of building bodies for the mines, everything should be tested in tough environments.
Cons
Why so expensive? If you take shipping out of the equation of the other manufacturers, then you will see that they have much better prices!
Really hard to find information on them.
The roof racks copy the design of Norweld which for me isn't that appealing.
Summary
There is a massive amount of appeal in going with a local company. Namely having access to the accessories whenever I want to put more in, as well as dealing with any issues that might arise.
But I just can't get over the feeling that they're shafting people with cost. Let's explore this.
For an extra cab canopy base (or tray as some call it) and 1800mm canopy without any accessories;
TLX: $13,995
MITS: $13,475 (cheaper and also offers lift-off points).
BOSS: $11,850
With accessories as stipulated in original quotes but removing the shipping fees;
TLX: $21,025
MITS: $20,460
BOSS: $18,270
So why more expensive?
Although TLX does include door painting in their costs, which is worth mentioning, this doesn't cover it for me. They're not better than MITS, nor are they lighter, they are just charging more because they can, because Perth people would have to pay shipping to look elsewhere.
So for me, this moves them towards the back of the pack, I would rather spend more for a company with a better pricing structure, even though it might cost me more in the end.
Concept Canopies
Website Quality – 6/10
Concept Canopies website is not very detailed in regards to how they go about making the canopies. There is very little info on materials and the gallery doesn't shed much light.
I feel like they could spruik themselves a lot more and be proud of what they're delivering because the end results look fantastic for such ridiculous low weights. It would be good to hear them explain why you should choose them to build your canopy.
The website does gain a bunch of points though for this price calculator. It is one of the best I have seen, with each individual item covered, including the price, an image, a small description as well as drop down options for different finishing trims or paint.
Customer Service – 8/10
Jake was a joy to deal with, with quick email responses and plenty of information for all the answered questions.
The quote provided gave me all of the information I needed, detailing weights and prices nicely.
The only thing missing from the quotes were the canopy dimensions. It got a bit confusing trying to figure out the canopy dimensions, inclusive and exclusive of the rear shelf. It would be nice if this could be laid out in the quote.
Customisation Potential – 10/10
Concept Canopies get an automatic ten here because they are one of the only places around that will do full custom builds. As in you can specify your dimensions and they will work with you to achieve it.
Outside of this level of build, there is still incredible customisation available for the general canopy thanks to their strut system that runs around the canopy. Things can be bolted in as you please and you can easily work on it yourself.
There are countless options to choose from if you decide to have them build the canopy fit out for you.
Shipping fees – 6/10
Without having received an official quote for shipping, I was told that it normally ranges from $1,500 to $2,000 depending on weight and size.
This doesn't include fitting though, and without a fitting agent in Perth it will be up to you to find someone to fit it (with access to an overhead workshop crane). I don't know how much this would cost but would estimate it would be close to $1,000 with the removal of tubs etc.
They do give good prices for reverse camera relocation but when shipping interstate this cost will be at the discretion of the fitting agent in  your state.
Ease of finding information – 6/10
Luckily the canopies have been filmed for All 4 Adventures, with this video giving a really good look into how it is built so lightweight, and how the interior is arranged.
Outside of that the info is seriously lacking. Their videos on the website are more like tiny little adverts, with fast cuts and transitions which don't help you build a picture of the canopy at all.
Summary (Pros and Cons)
Pros
The best pricing out of all of the manufacturers. This allows you to get more options, like painted finishes or their great slide out kitchen and still spend less than the other companies!
Extremely low weight, good for your GVM, fuel consumption and general wear and tear of the ute.
Roof bars on offer (see below) for those who don't need an overpriced roof rack. Just say how many bars you need, they're so much cheaper. Other roof racks are also available though.
Cons
Very hard to find any proper info or in-depth videos regarding these canopies.
To save weight, there is no "tray" component so to speak.
Summary
The smart money is on Concept Canopies, with weight being such a huge factor, and cost being another one, it's hard to see any reason not to go with them outside of personal preferences.
My only gripe is not being able to view one in the flesh to see what it looks like.
Concept Canopies also make a lift-off canopy, but I have not had this quoted so don't know the weights of it, but given how light the canopy is it could be very light indeed.
Boss Aluminium
Website Quality – 10/10
The best website of the lot!
With this brochure and the price list readily available on multiple pages, not hidden away or requiring a google search to uncover.
The brochure is FULL OF GREAT INFORMATION with 25 pages of useful viewing. It runs through all of the "M-Spec" packages with clarity and the last 8 pages of it are detailed breakdowns of components such as under tray toolboxes, drawers, roof racks etc.
Over on the canopy page, each package is clearly shown in an image, with prices and weights right there next to it. If you can't find the info you need then you're not looking hard enough.
The only thing that wasn't clearly pointed out is regarding extra cab utes, with all of the dimensions focussing on the dual cab range, or 79 series landcruisers.
Customer Service – 7/10
The emails were quite slow to begin with, I had to wait about a week for a reply and sometimes had to send reminder emails.
The quote is the most detailed of them all along with MITS, detailing the make up of the packages, with weights and prices clear to see throughout.
Customisation Potential – 9/10
Boss Alumium utilise an Adjustable Tower System in their canopies.
What this means is that there are a number of towers within the canopy, as seen below. All of the modules that are sold, such as drawer/table combos, fridges, shelving etc, can be added at any point down the track.
In this way, they have a fully modular system the same way that MITS do, it is non-obtrusive and in my opinion very innovative. I would also assume that these towers add to the structural strength of the canopy.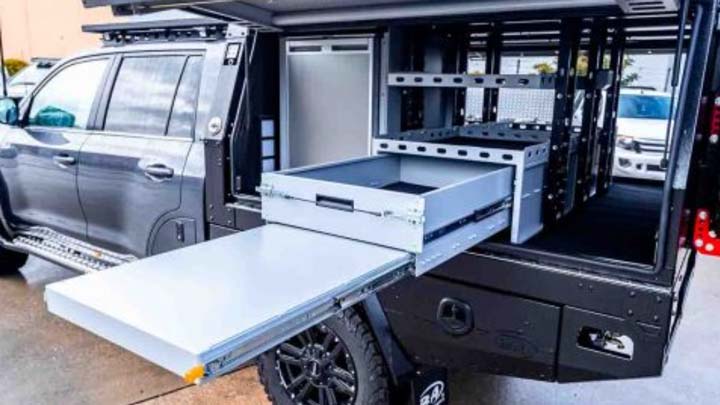 Shipping & Fitting fees – 7/10
Unsure on shipping fees at this stage, but estimates around $2,000.
It will be similar to those of Concept Canopies, as well as needing to find someone to fit it on arrival.
If you do manage to get it done in Victoria at their headquarters, the tub removal fee and reverse camera relocation fees are quite reasonable.
Ease of finding information – 8/10
The website has basically everything you'll need in the brochure (linked above).
Outside of that there are some handy canopy walk throughs, but not a lot to watch when all is said and done. Most of the information is gathered from the website rather than Youtube on this occasion.
Summary (Pros and Cons)
Pros
Cost efficient package deals that come with a lot of different options, like Norweld, but they weigh less, cost less and can also do 3/4 length canopies on an extra cab!
Great customisation with their tower system, whether it be with their parts, or making your own to fit.
Light weight canopy in comparison to most of the others.
Cons
Ridiculously expensive to buy components separately to your desired package. It makes the ability to build the canopy as you go almost a penalty, despite that being its greatest strength in design.
A little slow to respond to quotes, but this is a busy time for these companies with everyone looking to tour within the country.
Summary
Boss Aluminium is right up there with Concept Canopies in my preferred options, a mixture of good pricing (for packages) and light weight make it hard to go past.
However, I find it ridiculous to be expected to pay;
$1,750 for a table/drawer combo (61% above average) or,
$1,200 for a fold down ladder (41% above average) or,
$1,500 for a pair of under tray toolboxes (28% above average) or,
$1,450 for a roof rack (46% above average).
Luckily the last 3 come included in my desired package arrangement.
GCI Traytec
Website Quality – 7/10
Similar in quality to Norweld's website, neither poor nor great.
They lose points for a lack of transparency in prices, but gain points for their clear listing of the weights of all the components on their products page. The accessories page is very neat but lacking any real information about the products.
Customer Service – 1/10
This is hard to rate because it has basically been nonexistent.
After asking for a quote through the website, clicking all of the options that I wanted, I waited 8 days for them to email me back saying I would need to call to receive a quote as they were too busy to reply to people.
I replied 2 days later saying I was happy to wait, as I wanted everything to be itemised with weights and costs to better decide what I would cut out from the quote if need be based on those two criteria.
At the time of writing that was 24 days ago … with no response at all.
Customisation Potential – 9/10
GCI are some of the most innovative tray and canopy makers on the market!
Like MITS, they utilise a uni strut floor system that perfectly aligns with the roof, rear, and front walls. All of their modules (shelves, drawers, kitchen slides, fridge partitions etc.) fit within this system.
Although GCI offer more floor and ceiling channels than MITS, there is less available on the front and rear walls of the canopy.
If no modules are selected, they bolt in a flush sitting floor for you to store stuff (see the before and after images below) until you decide what you want to put in the canopy. Otherwise you can use the uni strut design to make your own stuff.
Shipping & Fitting Fees – N/A
Awaiting a quote reply, I currently have no information from GCI, they haven't even confirmed whether they ship to Perth.
Ease of finding informAtion – 10/10
Outside of their lack of a quote …
Hands down the best Youtube feature episodes you will see!
With videos like this here explaining the make up of the tray, as well as videos with lengths over 28 minutes that walk through every aspect of a build, you will learn EVERYTHING you need to know about GCI Traytec canopies.
The only thing I have trouble seeing is what roof rack systems they use.
But major props to the guy doing the Youtube videos, I have no doubt that in time they will have a feature episode on each component.
Summary (Pros and Cons)
Pros
Some of the most innovative designs you will see. The kitchens, the gas storage containers, the rear ladder with the spare tyre behind it, it's all really good to see them thinking outside the box.
The weight seems to be respectable considering all the designs are lift-off compatible.
Allow central locking for the under tray toolboxes.
Cons
Poor response times to customers, have seen other comments on Youtube videos bemoaning a lack of response as well.
Personally not a fan of the under tray toolboxes that slide out, rather than the standard fixed design.
Summary
GCI Traytec look like they're putting a fresh spin on everything, which is a joy to see. However, it's all for nothing if they can't give people quotes to put themselves in the running to get more business and positive press.
Really want to see their pricing to know whether I can look to them for my canopy designs.
Answering What is the Best Aluminium Ute Canopy
At the end of the day it all comes down to what you value.
Do you want the lightest possible weight? Then go for Concept Canopies or Boss Aluminium.
Do you want to customise the canopy after purchase? Then MITS, Boss, and GCI would arguably be your best bets, along with Concept Canopies.
Do you know exactly what you need and want a finished product ASAP? Check out Boss Aluminium and Norweld's packages for stuff that's ready to go!
What am I going to choose?
I genuinely don't know yet. For me it will come down to the following points;
How heavily I value a light weight design.
How much I want to spend.
What the lead times are.
If I want to have the option to remove the canopy.
Whether I listen to my heart or my head.
Here's how I see them all currently in no particular order, with 3 contenders and 3 out of the running;
MITS ALLOY
Still in the running despite the higher prices, they have my favourite design of all the canopies and to have a relatively light weight while still being able to lift the canopy could be handy.
On viewing their canopy I loved the roof rack design as well as the electrical panel included in each build as standard.
Concept Canopies
The smart choice would be to go with Concept Canopies. The cheapest as well as the lightest and with a long time testing designs in the field. Seems like a really good company with honest principles, competitive pricing and a different way of looking at canopies that values a lighter design.
Might even see how much the wind-off designs weigh.
Boss Aluminium
As above, great weight savings and cheaper than some of the others when buying in packages. I also prefer their internal layouts to Concept Canopies, with the tower system offering some good options.
Another who I might see what the wind-off designs weigh before making up my mind.
TLX 4×4
Probably out of the equation for their high pricing. The whole "support West Australian business" doesn't wash with me if they just jack the prices for no apparent reason. They weren't my favourite design, nor were they cheaper than other companies who still had to ship the products interstate.
I don't think they're bad by any means, but it just irritates me that there doesn't appear to be a true benefit to buying local.
I can't see any justification for it, besides the convenience of it being local, the benefit of reduced costs isn't there. Only way they might sneak back in is if there were reduced wait times in comparison to others.
GCI Traytec
Currently out of the equation due to poor customer service. They'd have to have a pretty good quote come through to try and sway me. Love the designs (besides the toolboxes) but it's also heavier than the others slightly.
Norweld
Out of the equation due to lack of customisation, increased weight, no option for a shorter canopy for an extra cab (worth looking at for dual cab owners still).
Things To Consider When Looking For The Best Aluminium Ute Canopy
What needs to be fitted at the time of install? (most water tanks and trundle drawers for example).
How close are you to GVM?
Will your suspension need upgrading?
Will you ever need to remove the canopy? (consider getting drop sides to mount)
Will an under-tray water tank be affected by long range fuel tanks?
What is the canopy like for DIY installations and modifications, especially electrically?
How to mount a lithium battery in the canopy?
Where will your electrics run in?
Can canopy extras be added after the sale of the canopy and easily fitted?
Will the trundle drawer affect the spare tyre?
What length trundle drawer can you get with which size water tank?
What is the load rating of the roof?
What roof rack options are available and what can you mount on them?
How much is the shipping to your state (what about fitment?)
What is the expected wait time?
Will the canopy fit new utes with different dimensions from the rear of the cabs to the rear axles?
Conclusion
Don't forget that you don't need any of this stuff. It's just fun to dream about, fun to look at, but if the money is better spent on something else than don't worry about what other people have put themselves in debt to buy.
Spend the money exploring before you do on some overkill accessory, this really should be one of the final things you do to your ute, it's just the pudding on top.
I hope this has been somewhat enlightening, and if GCI do send me a quote I will aim to update the tables which will affect all of the +/- % results.
Like I said in the beginning, the best aluminium ute canopy is the one that best suits your needs. I have unfortunately only been able to view TLX, MITS, and Norweld in person but would love to see the others one day.
Good luck rubber ducks!
2022 – Update
I now have the canopy fitted to the car, this will all be documented in due course, both here and on Youtube.
Needless to say that I am wrapped with the product, it is faultless and looks better than I had thought. Thanks to Jake, Drew and Steve from Concept Canopies / Tactical Tourers for the build.
I need to point something incredible out here. I previously had a heavy duty steel tray, 2100mm long.
The car weighs EXACTLY the same after removing that and fitting the canopy. I actually went to a second weigh bridge to confirm (wasted $40) because I couldn't believe it.
That puts the weight at 240-250kg for my set up. That is a saving of 140-170kg compared to the competition. That pays dividends for the life of the canopy, less fuel, less wear on parts, continuously.
Keep in mind that this canopy is bespoke, built to my exact dimensions, shipped from over east and still competitively priced if not cheaper than other canopies on offer, but with a lifetime warranty to match.
For those who want a truly customised build instead of being limited to "packages" then hit up Concept Canopies / Tactical Tourers.
There will be more information on this after I have had the time to use it and build it out, reviews, videos etc.